A first-hand experience – Microsoft Dynamics 365 and Property-xRM for Real Estate Seminar
-By Sanjeev S Nair
The past few months have seen ground-breaking innovations in technology with AI, ChatGPT, and other business enablers. Over the years, Microsoft has made significant additions to its technology in its biyearly releases to streamline business processes and provide innovative solutions for organizations all around the world.
I was not surprised when I raised the question about the buzzword in recent times and got a unanimous response around AI and ChatGPT. Generative AI in Microsoft has truly been a game-changer. Being closely associated with Microsoft technology, the recent developments are fascinating. The sheer thought of how technology would present itself in the years to come amazes me!
The Latest in Microsoft Dynamics 365
On March 15, 2023, Metadata Technologies hosted the Microsoft Dynamics 365 Technology Summit for Real Estate at the Delta Hotels by Marriott in Dubai. Conducted for real estate professionals in the GCC region, the seminar focused on the latest in Microsoft Technology and how it can help them work smarter and more efficiently.
It was a pleasure to be part of the session, not just as a host, but also as an attendee simply because it presented an opportunity to connect with real estate professionals and seasoned industry leaders.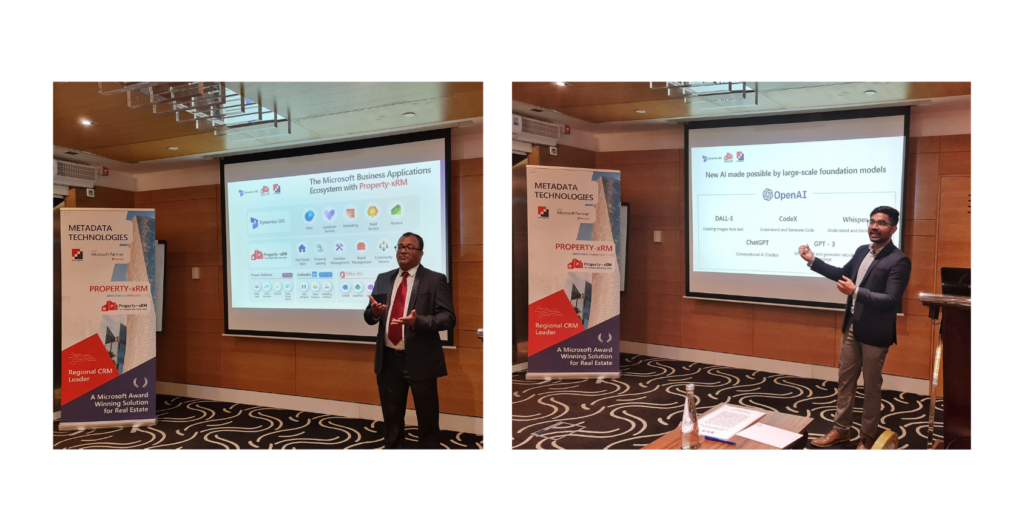 Metadata's annual event was led by its Microsoft-certified consultants, highly experienced in the field of Real Estate Technology. The seminar covered a range of topics, including the latest updates to Microsoft AI, Dynamics 365, and our real estate flagship solution, Property-xRM.
One of the highlights of the Microsoft Dynamics 365 seminar was a live demonstration of Viva Sales in Microsoft Teams, an AI-powered collaboration tool that provides a platform to accelerate sales. Attendees were shown how Teams can be used to manage tasks, automate data entry, generate key talking points, and share files and documents.
The core agenda of the session was the capabilities of Microsoft Dynamics 365 across Sales, Marketing, and Customer Service functions. Dynamics 365 is a cloud-based customer relationship management (CRM) and enterprise resource planning (ERP) solution that provides companies with a comprehensive set of tools for managing their business operations. Attendees were shown how to use Dynamics 365 CRM to manage the customer-facing functions, as well as how it natively works with other Microsoft tools like Outlook and Excel. They also learned about the benefits of leveraging Conversational Intelligence during phone calls and automating the recursive tasks done by a sales or service executive while using the CRM solution.
Property-xRM for Real Estate
The real estate segment of the event focused on the capabilities that Microsoft Dynamics 365 and Property-xRM bring in for Real Estate Developers, Property Management, and Facilities Management Companies. We also demonstrated the latest capabilities of Property-xRM's Community Management, Owner Association, and Retail Management modules that cater to the various markets within the real estate industries.
As real estate continues to flourish in the UAE, leaders in the industry have realized the need for a scalable and flexible solution to meet the requirements of the market. Property-xRM combines the best of both worlds – The powerful Microsoft technology platform and Metadata's 20 years of real estate domain expertise.
Overall, the Microsoft Dynamics 365 Seminar was a great success, leaving attendees with a better understanding of how Microsoft technology can help them work more efficiently and effectively. By providing real estate professionals with the tools and resources they need to succeed, Metadata Technologies and Property-xRM are helping to drive innovation and growth in the industry.
For more details on how Microsoft Dynamics 365 can help your organization, feel free to reach out to us. Follow Metadata Technologies and Property-xRM on LinkedIn for the latest updates.
As a Gold Microsoft Partner, Metadata Technologies is a 100% CRM-focused company with 20 years of experience providing Customer Relationship Management solutions for business enterprises across the globe. Metadata has been the recipient of the Best Industry Partner Award in 2014 by Microsoft and is committed to delivering quality solutions to ensure peak customer satisfaction.